Automobile Manufacturing Management System
Introduction
In modern automobile manufacturing system, a brand new car is made of multiple parts after stamping, welding, painting, assembling process. The automated production lines are replacing human workforce and workers can supervise the whole process in monitor center.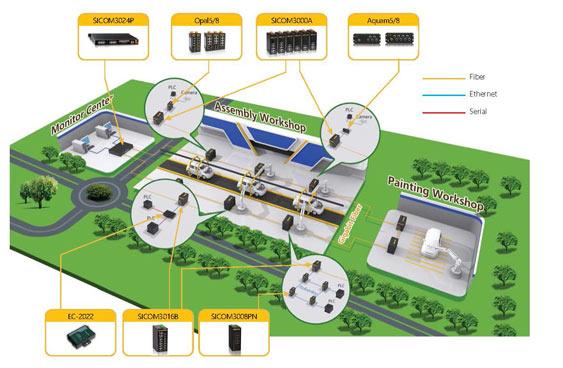 System Requirements
Reliable and stable network equipment, to ensure monitoring of the automobile manufacturing process
Limit installation space required
Redundant network capacity for fast failover recovery
Industrial design suitable to production lines environment
Easy device fault location, status display, and management
To provide access for devices in production lines including PLC, camera and other equipment.
Support industrial Ethernet protocol, providing network redundancy and management function
Why Kyland
Industrial Ethernet switches with long MTBF to construct reliable communication network
Support IEC62439-6/DRP, DT-Ring, RSTP network redundancy, up to<20 ms recovery time
EMC level 3, IP30, fanless design, wide operating temperature
Kyvision NMS provides easy and reliable network monitoring and trouble shooting
Industrial embedded PC for access and control of end devices with serial, DI/DO connection
Industrial Profinet switches for industrial Ethernet network supporting Profinet v2.32, CC-B and IEC62439-2 MRP.
Based on Intel® high performance processor, which brings the whole system stability and fast response.
Recommended Products
Cases
Download