On July 10, 2020 World Artificial Intelligence Conference (WAIC) was held in Shanghai. WAIC focused on technological innovation, industry-finance integration, ecological building foundation, also invited opinion leaders to share the development of the global industrial Internet industry.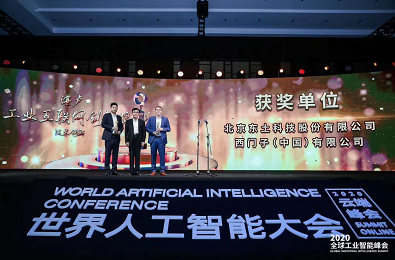 During the conference, committee promulgated the first global industrial intelligence award "Zhan Lu Award" with Forbes China. Kyland stood out from hundreds of well-known enterprises in industrial area and won "Zhan Lu Award" in "technological innovation". This award is a high recognition of Kyland's R&D strength. It is also another milestone honor after the first prize of "The First China Industrial-Internet Competition" held by the Ministry of Industry and Information Technology in 2019 and "The Single Champion of Manufacturing industry".
"Zhan Lu Awards" is known as the "Oscar" in world industrial intelligence area, it is divided into six awards (industrial engine, most dynamic platform, industrial safety, industrial Internet innovation, Emerging talent and Bole) focusing on the latest products, applications, technologies and services in industrial intelligence area. Coincidentally, Kyland and Foxconn jointly won the first prize in the first "China Industrial Internet Competition" held by the Ministry of Industry and Information Technology; in "Zhanlu Award", Kyland and Siemens jointly won the "Technological Innovation Award"; Huawei and Foxconn jointly won the "Most Dynamic Platform Award".
"Zhanlu Award" aims to attract the leader companies in world industrial Internet +AI, and lead the industry to the road of digital and intelligent high-speed development. The jury of "Zhanlu Award" is composed of experts from the United Nations Industrial Development Organization, Industrial Internet Industry Alliance (AII), Industrial Internet Alliance of the United States (IIC), representatives from well-known investment institutions, as well as authoritative representatives from the United States, the European Union and other industries. The award has high authority and strong social credibility.
By innovating and establishing standards, Kyland strives to bring the industry together on three levels: by unifying communication protocols, establishing a host platform for control and management software and by setting up a control and computing platform. This will lay the groundwork for the application of software-defined control, remote collaborative manufacturing, 5G and AI in industry everywhere. Through 20 years of research and development work, Kyland has developed the world leading industrial internet operating system Intewell, an all-purpose industrial internet communications chip and software-defined control industry servers. The company has also established four international standards (IEC61158-28 & IEC61784-CP22, IEC61158, IEC62439 and IEEE C37.238) and one national standard for China (GB/T 30094-2013). Of national projects in China, it has completed six tasks under the Core Electronic Devices, High-end Generic Chips and Basic Software Program and three under the 863 Technology Program.
Kyland will promote the integration of industrial automation and information technology, and lead the global new industrial transformation in the future.