On September 27, 2019, after the International Electro technical Commission's Industrial Process Measurement Control and Automation Technology Committee Industrial Network Subcommittee (IEC/SC65C) voted, the Industrial Internet of Things technology developed in China, AUTOBUS, was successfully established with a 92.9% approval rate, and the number Industrial communication series international standards IEC 61158 Type 28 and IEC 61784 CPF22. This technology is the world's first all-IP industrial control protocol, marking China has entered the ranks of technology-leading countries in the field of industrial IoT communication.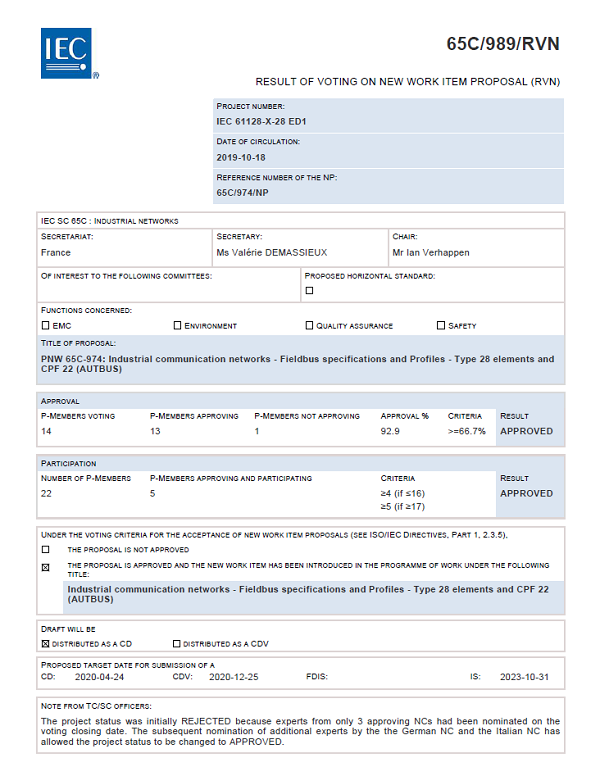 AUTBUS is a new type of time-sensitive broadband industrial Internet of Technology. Orthogonal Frequency Division Multiplexing (OFDM) technology commonly used in wireless communications is introduced into the field of wired industrial communications, which solves the most critical deterministic problem of the industrial Internet of Things. The message delivery time can reach up to 8 microseconds. At the same time, it supports unified addressing based on IPV6 addresses, which can realize all-IP solutions for IT networks and OT networks. This technology enables industrial-controlled time-sensitive data and high-bandwidth data such as visual images to be transmitted on a single bus, which solves the problem of broadband transmission, carried by the Industrial Internet of Things business, and lays the foundation for the comprehensive access and promotion of Industrial Internet of Things. At present, a series of AUTBUS instrument products and systems have been developed, which are widely used in industrial control, automobiles, airplanes, high-speed rail, ships, and other fields. They provide network and intelligence for equipment and systems and provide strong support for the development of China's intelligent manufacturing industry. With the continuous support of the National Standards Commissions, the Ministry of Science and Technology and other departments, organized by the National Industry Process Measurement Control and Automation Standards Committee (SAC / TC124), Beijing Dongtu Technology Co., Ltd. based on its long-term technical research and development in the field of industrial communications, Industrial practice, research institutes such as United Machinery Industrial Institute of Instrumentation, Comprehensive Technology and Economics, Shenyang Institution of Automation, Chinese Academy of Science, Institute of Standards, China Academy of Information and Communication Technology, Hollys Technology Group Co., Ltd., Shanghai Automation Instrument Co., Ltd., Beijing Austin Technology Co., Ltd. Units and enterprises have formed a mature solution after a large number of experimental tests and fields verifications, formulated AUTBUS international standards and national standards simultaneously, and successfully established projects.
AUTBUS technology has realized the introduction of broadband solutions for the first time in the field of bus, further improving and promoting the development of the international industrial communication field's bus system. The successful establishment of this international standard indicates that China's industrial Internet of Things underlying protocol architecture has gained international recognition, marking China's industrial IoT applications can provide standardized solutions from chip to system, to achieve high standards to help high-tech innovation, leading high-quality development to provide technical support.