Product Overview
The Kyland® switch chip families are purpose-built for advanced defense, industry and enterprise network applications. The KD5660 is based on the industry-leading and proven chip product line, integrated high-reliability buffer and large capacity tables, and offers unparalleled integration for Ethernet timing and synchronization features. Each Kyland® family device supports L2 bridging, L3 routing, IPv4/IPv6 unicast and multicast, anti-attack, ACL and QoS features. The KD5660 offers 24 ports of 10/100/1000Mbps Gigabits Ethernet (GE), up to 4 ports of 10-GbE for uplinks, 1-GE port for system management. Kyland Chip front-end design, back-end design, verification, wafer manufacture, assembly and test full flows finished first time in China Mainland, designed for secure, trusted and reliable communication network.
Benefits
High competitive solution of user access network for enterprise and metro Ethernet.
Eight flexible traffic queues per port assure quality of service (QoS) for lowest latency to high priority traffic, and deliver good experiences for a wide variety of delay-sensitive video and audio multicast applications.
Flow-based classification, policing, marking, and queuing deliver carrier-class SLA.
Supports Synchronous Ethernet and provides timing accuracy for delay-sensitive applications such as voice and video.
Offers friendly unified API and high reusable software development kits for launching network products quickly.
Applications
Enterprise intranet access switch. Single chip solution offers 4×10GE + 24×GE Ethernet ports, or double chips stacking for 48×GE high-density Ethernet ports.
Metro Ethernet access/aggregation switch. Single chip solution offers 2×10GE + 24×GE Ethernet ports, and 2×10GE uplink ports.
Key Features
Line rate, non-blocking architecture.
Provides 24×1GE (SGMII) + 4×10GE (XAUI) Ethernet ports, supports stacking or uplink function.
Supports L2 bridging, and L3 routing, IP unicast and multicast.
Fully integrated large capacity packet buffer up to 32 Mbits.
Advanced multistage TCAM packet content classified engine
- Supports L2, IPv4/IPv6 L3, TCP/UDP and OAM packet classification.
- Supports multi-fields (Include customized fields) packet classifying.
- Flexible secure access control list based on packet classification.
Ethernet features
- IEEE 802.1Q-in-Q, 802.1ad bridging.
- Eight QoS class queues per port and scheduling with DWRR/SP algorithm.
- Four drop precedence level per QoS class queue and WRED function.
- IEEE 802.1ag and Y.1731 OAM.
- IEEE 1588v2 and Synchronous Ethernet.
Provides DDoS anti-attack features, defense of many attacks such as TCP/UDP flood, ICMP flood, fragment flood etc.
SI/PI and MIIM interfaces for system management.
Specifications
Mechanical Drawing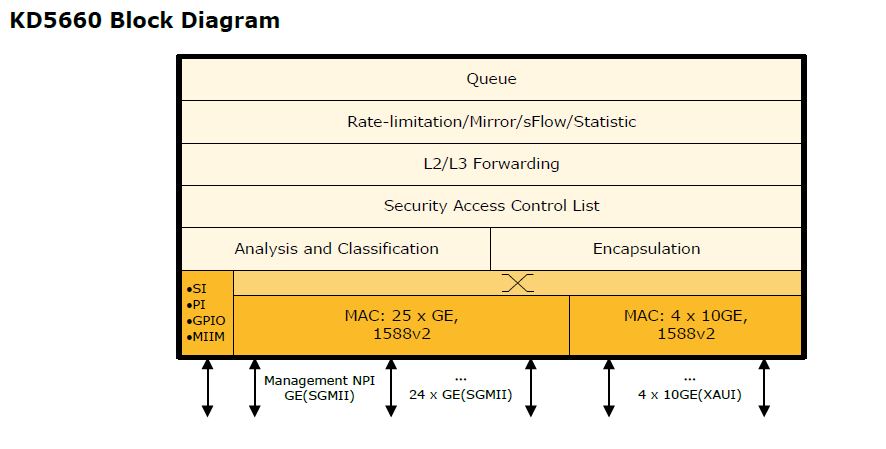 Ordering Information
Part Number
Package
Description
KD5660
FCBGA, 27mm × 27mm
24×1GE + 4×10GE
KD5656
FCBGA, 27mm × 27mm
16×1GE + 4×10GE
KD5656A
FCBGA, 27mm × 27mm

16×1GE + 4×10GE,
PRP/HSR feature available
Download