New EN50155 Switch Family
for Rail Onboard Applications
Aquam = Robust
·IP65 protection class, dustproof and waterproof performance
·The M12 interface ensures the tightness and the firmness of the port connection
·Specially designed for applications subjected to high vibration and shock.
IP65 Aluminum Case
EN50155/EN50121/EN45545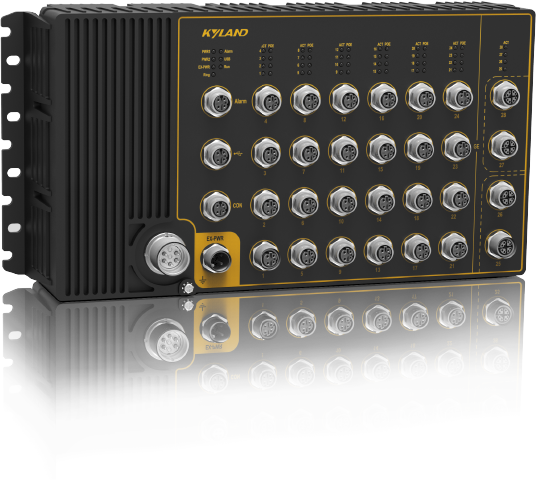 High Port Density
·Up to 24+4G M12 ports in a compact housing
·Easy to integrate the maximum information nodes within a limited space
·Ports layout meets human engineering design ensuring flexible connector manipulation
·4 10/100/1000Base-T(X) ports with M12 X-coded connector
·Console Port RS232 with M12 A-coded connector
·Alarm Contact with M12 A-coded connector
·USB with M12 A-coded connector
Professional Heat Dissipation Design
·Heat dissipation design fully based on strict thermal simulation under up to 85°C
·Suffice the 120W full-loaded device power consumption with all PoE powered devices connected
·The overall housing uses Aluminum Alloy 6063 with sandblasting oxidation process for the best heat dissipation performance, and the heat conductivity reaches 201W/m.K
·Ideal chipset/heat source layout design on the PCB ensures perfect heat dissipation performance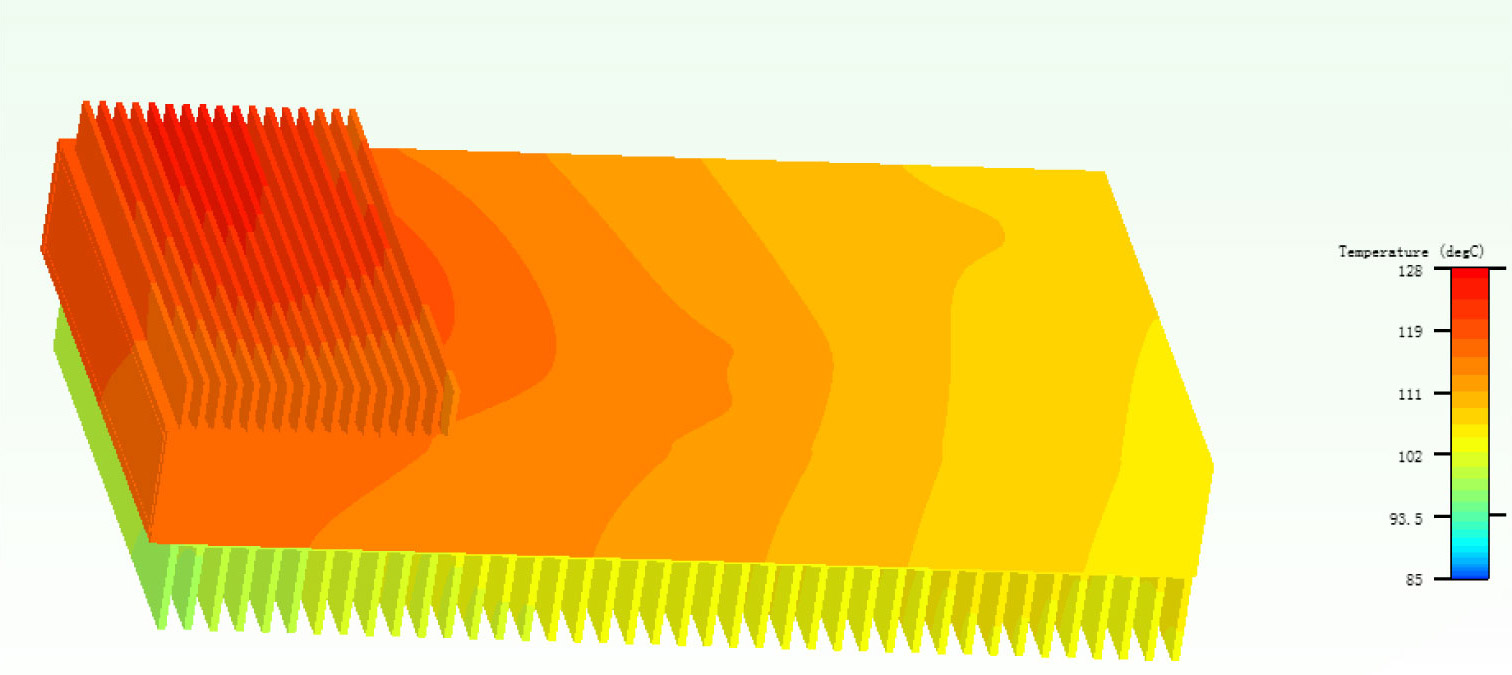 Maximum 240W PoE/PoE+ output
PoE/PoE+ available on every 100M Ethernet ports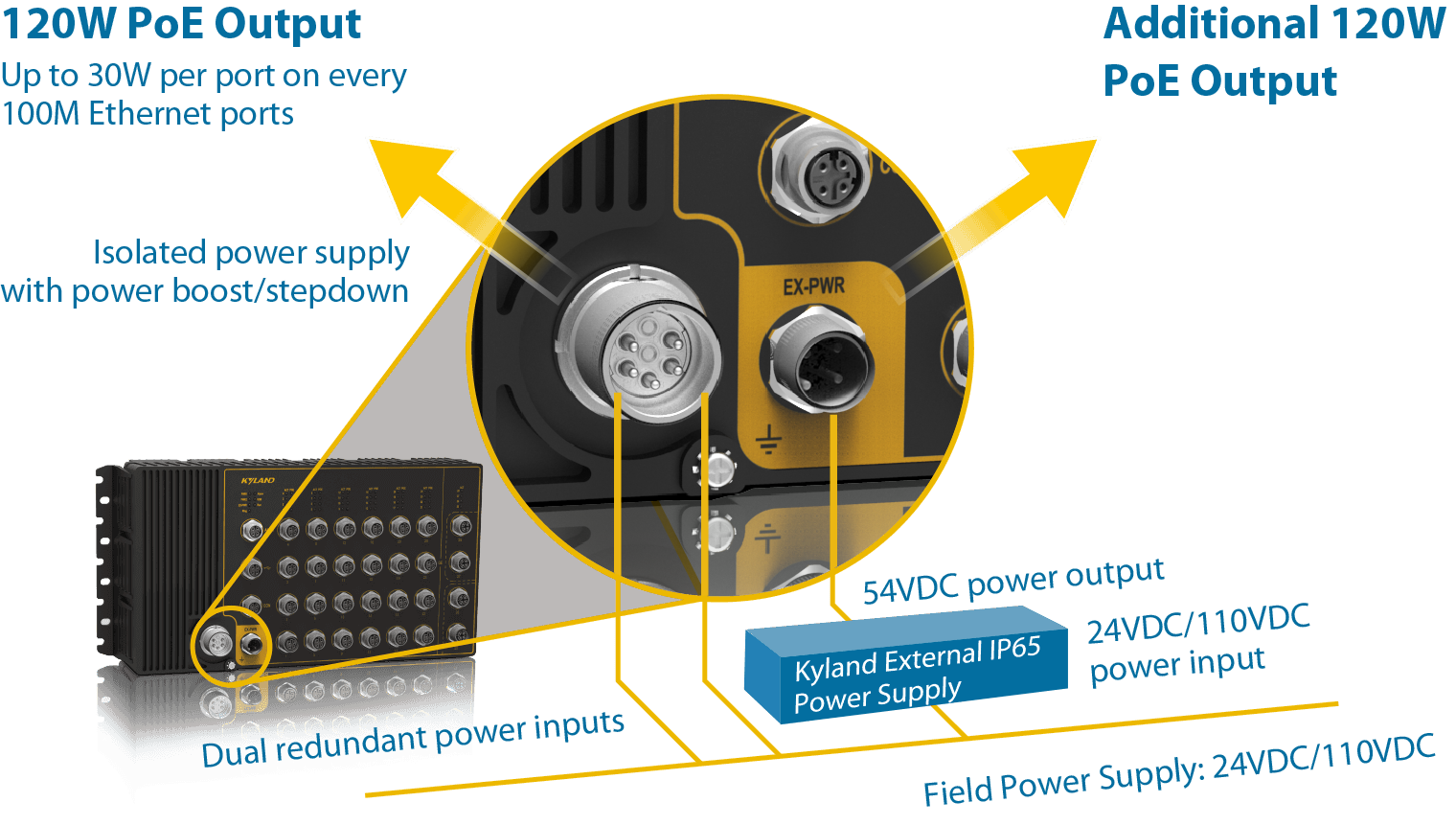 Gigabit Hardware Bypass
·In a linear topology, a failure in any of the upstream links will result in the failure of the downstream links as well. For railway communication systems with interconnected networks, such a failure will cause chaos
·Kyland's Aquam series provides 2 pairs Gigabit Ethernet ports with bypass relay function. If one of the Ethernet switches fails due to power loss, its ports are bypassed with the relay circuit, and the transmission lines will interconnect automatically to assure continuous system operation

TTDP: Train Topology Discovery Protocol
·IEC 61375 train backbone management: Due to the train set coupling and decoupling scenarios, ETB (Ethernet Train Backbone) has to be adaptive to the topology change and also react for layer 3 routing.TTDP,R-NAT,and also other features are defined in IEC61375 to build an Ethernet based TCN (Ethernet Consist Network) for TCMS (Train Control and Management System).
·Automatic configuration of
IP addresses
Routing rules
NAT 1:1

R-NAT: Railway-Network Address Translation
In order to keep identical configuration as well as network scheme of each ECN but still allows the communications between EDs across different consists,R-NAT is introduced for IP address mapping and translation between different subnets. As shown in the diagram, the EDs are assigned with the same IP in different consists. When EDs have to communicate with each other, the upper level ETBN will help translate and forward the packets towards the destination.
Rich Redundancy Protocols
·Supports VRRP
·Supports RSTP (Rapid Spanning Tree Protocol)
·Supports DRP (Distributed Redundancy Protocol, IEC62439-6) with recovery time<20ms
·Supports MRP (Media Redundancy Protocol, IEC62439-2)
·Supports Link Aggregation (LACP, IEEE802.3ad)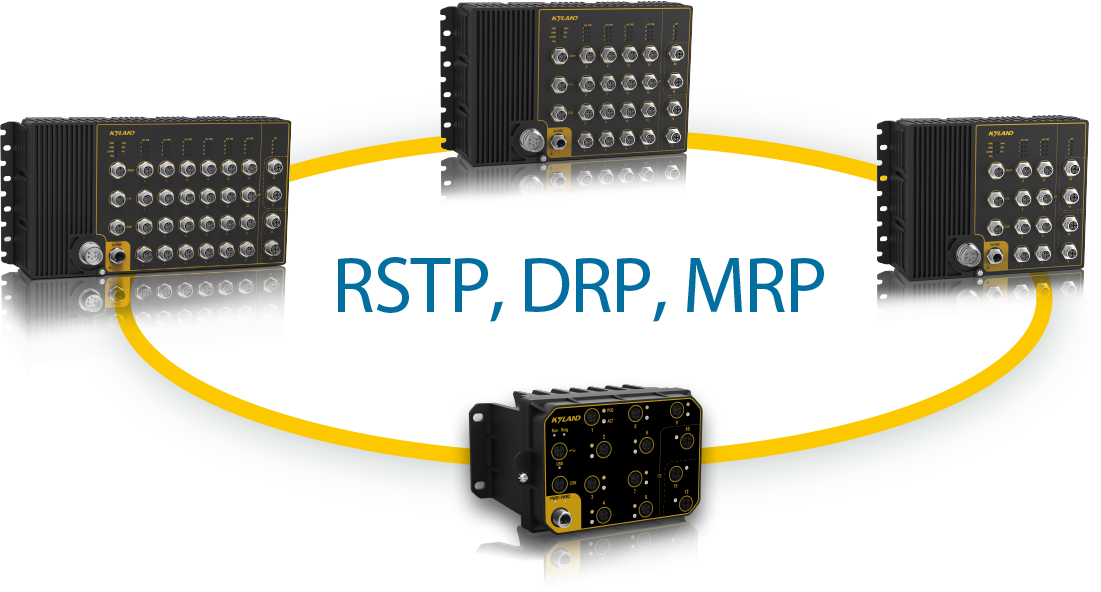 Network Security
·Supports IEEE 802.1x(authentication and authorization)
·Supports HTTPs/SSL
·Supports SSH
·Supports a local RADIUS server and also the forwarding of an authentication to an external RADIUS server.
·Supports TACACS+
·Unicast MAC Filtering
Configuration Backup Tool
·Designed to meet the full requirements of the rail vehicle market.
·Easy Plug-n-Play configuration backup and restoration while device exchanges are needed
·Enables easy update of the switch configuration by attaching the device to the switch and cycling power.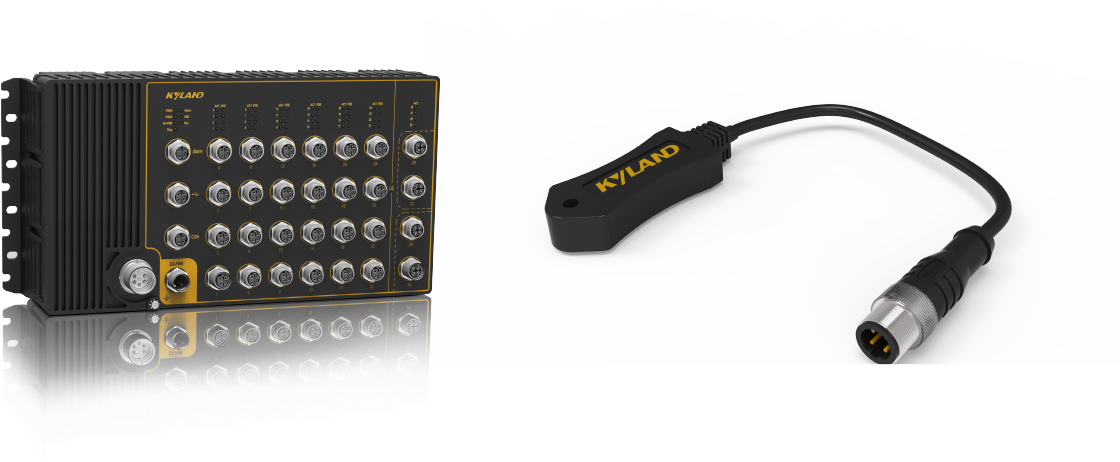 Universal power supply PoE/PoE+ unmanaged EN50155 switches: Aquam8S/5S

IP67 unmanaged EN50155 switch family for the harshest factory environments: Aquam8G/5G/8/5
Kyland IRIS-Certified
Rail&Public Transportation Solutions
Designed for Maximum Quality